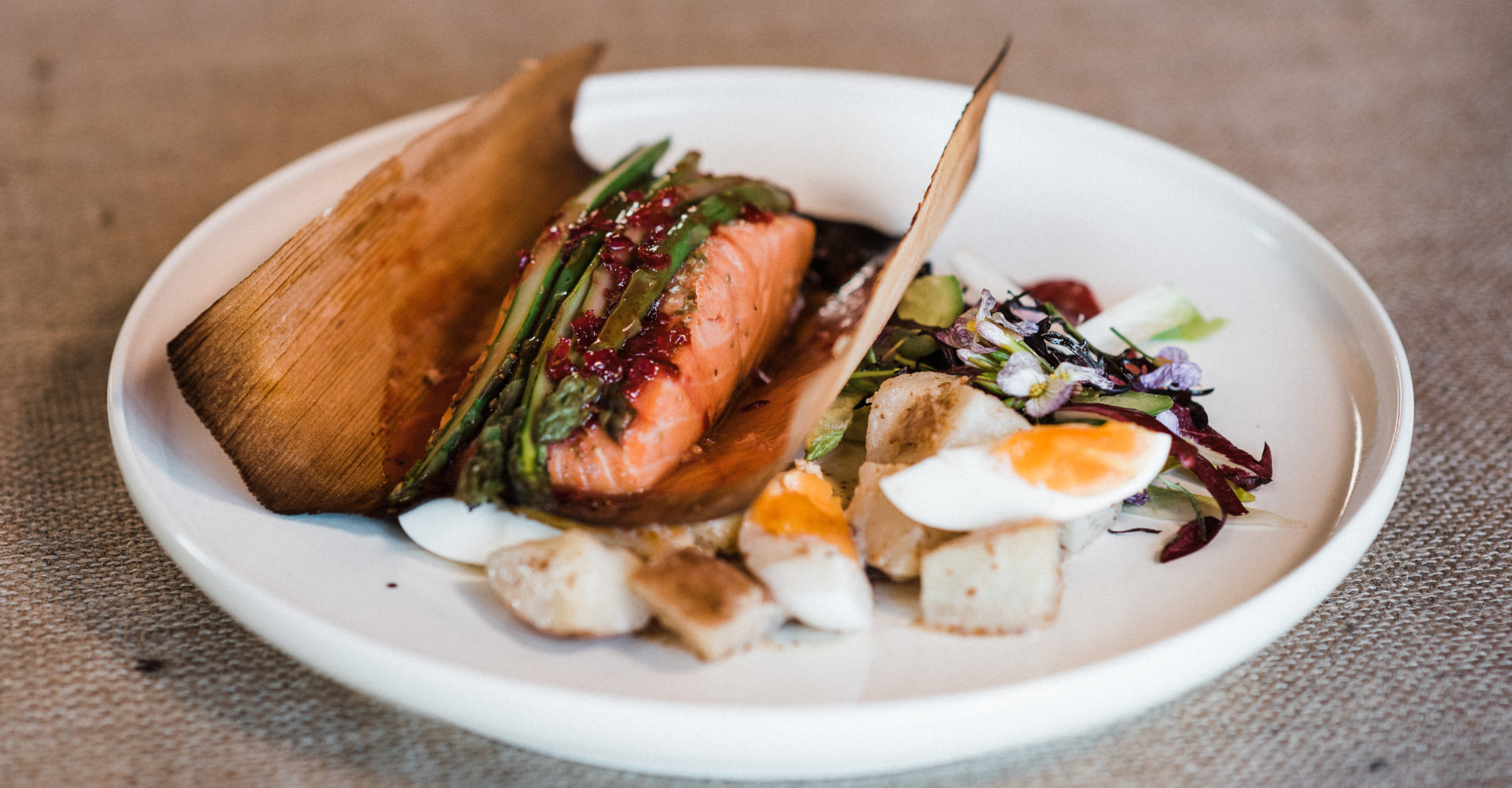 Cedar Wrapped Alpine Salmon Barbecued with Asparagus and Blood Orange Butter.
Blood orange butter sauce is a take on the French classic, Sauce Maltaise - essentially a hollandaise sauce with blood orange juice. If blood oranges are not in season tangerines or mandarins make a great substitute, offering a sauce with a bit of tang.
Sauce and asparagus for 4 x 150 gram portions of cedar wrapped salmon
Ingredients:
12 asparagus spears, blanched and split length wise.
1 cup of fresh blood orange juice (approx. 5 – 6 oranges.)
1 pinch of blood orange zest.
½ red onion finely diced.
1 level teaspoon of fresh coarsely ground white pepper.
1 teaspoon white wine vinegar.
150 grams of unsalted butter.
Sauce Method:
Sweat the onion in approximately 30 grams of the butter until soft.
Add the white pepper, orange juice and vinegar.
Reduce by half the volume.
Remove from the stove and whisk in the butter 30 – 40 grams at a time.
Salt to taste.
Wraps Method:
Soak & season – soak cedar wraps in water for 30 minutes. Oil one side of the cedar paper and season salmon with salt and pepper.
Flavour & roll – place the salmon on top of the cedar wrap and add asparagus and a tablespoon of the blood orange sauce to the top of the salmon before enclosing and tying off. Roll up and tie with twine.
Cook & Enjoy –Preheat the BBQ to hot (400C) with the lid down. Turn BBQ down to low and place the cedar wrap on the grill with the lid down. Turn after 5 minutes and remove after 7-10 minutes total. Keep a spray bottle of water in case the wood catches light!
Serve with a soft egg potato salad and greens.
Cedar wraps are available at: Farro, Guytons, Deli ca sea, Raeward Fresh (Harewood and Tower Junction) Moore Wilson The Burrow and online.  To buy online: click here