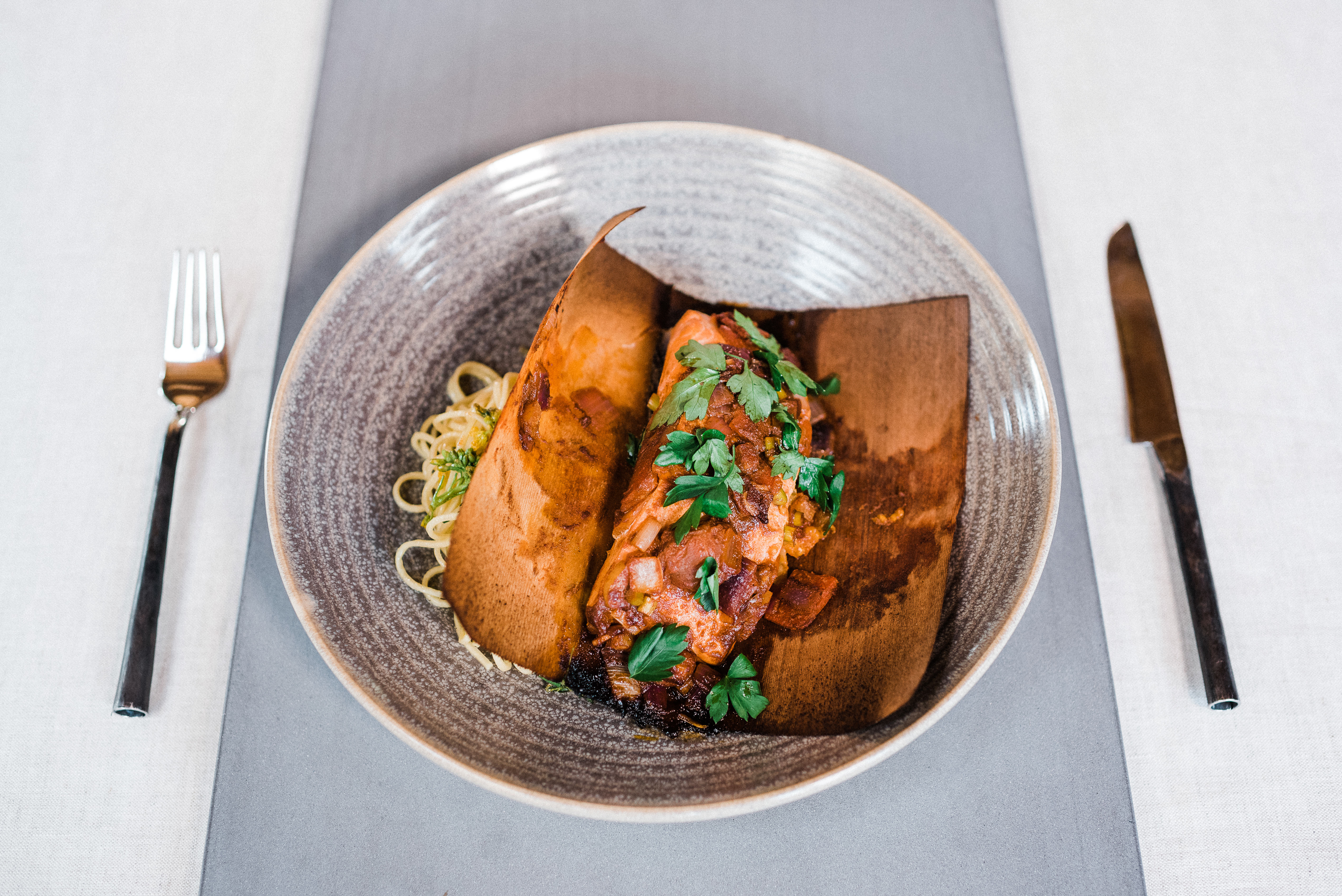 Cedar wrapped Mt Cook Alpine Salmon with Roast Red Pepper and Tomato Chermoula
Chermoula is a North African spice mix usually used with chicken. By toning the spice intensity down with red peppers and tomato, the mix works well with salmon.
Sauce for 4 x 150 gram portions of cedar wrapped salmon
Ingredients:
½ cup roast red bell pepper
½ cup cherry tomatoes
1 tablespoon fresh coriander leaves.
2 tablespoons chopped garlic chives (substitute 3 garlic cloves)
1 level teaspoon ground cumin seed
1 heaped teaspoon sweet paprika
1 level teaspoon ground black pepper
1 pinch of chilli flakes (or to taste)
2 tablespoons of cooking oil
juice of ½ a lemon
1 tablespoon white wine vinegar
Sauce Method:
Sweat (cook without browning) the spices in the oil on low heat for about 5 minutes2.
Add the roast pepper, tomatoes, vinegar and lemon juice.
Cook until tomatos are soft. Remove from heat.
Add the garlic chives and coriander.
Salt to taste.
Wraps Method:
Soak & season – soak cedar wrap in water for 30 minutes. Oil one side of the cedar paper and season salmon with salt and pepper.
Flavour & roll – place the salmon on top of the cedar wrap and add a tablespoon of the chermoula sauce to the top of the salmon before enclosing and tying off. Roll up and tie with twine.
Cook & Enjoy – Cook in a preheated oven at 220°C for 8-12 minutes,  keep a spray bottle of water in case the wood catches light! Serve with cous cous and steamed green vegetable.
Cedar wraps are available at: Farro, Guytons, Deli ca sea, Raeward Fresh (Harewood and Tower Junction) Moore Wilson The Burrow and online.  To buy online: click here