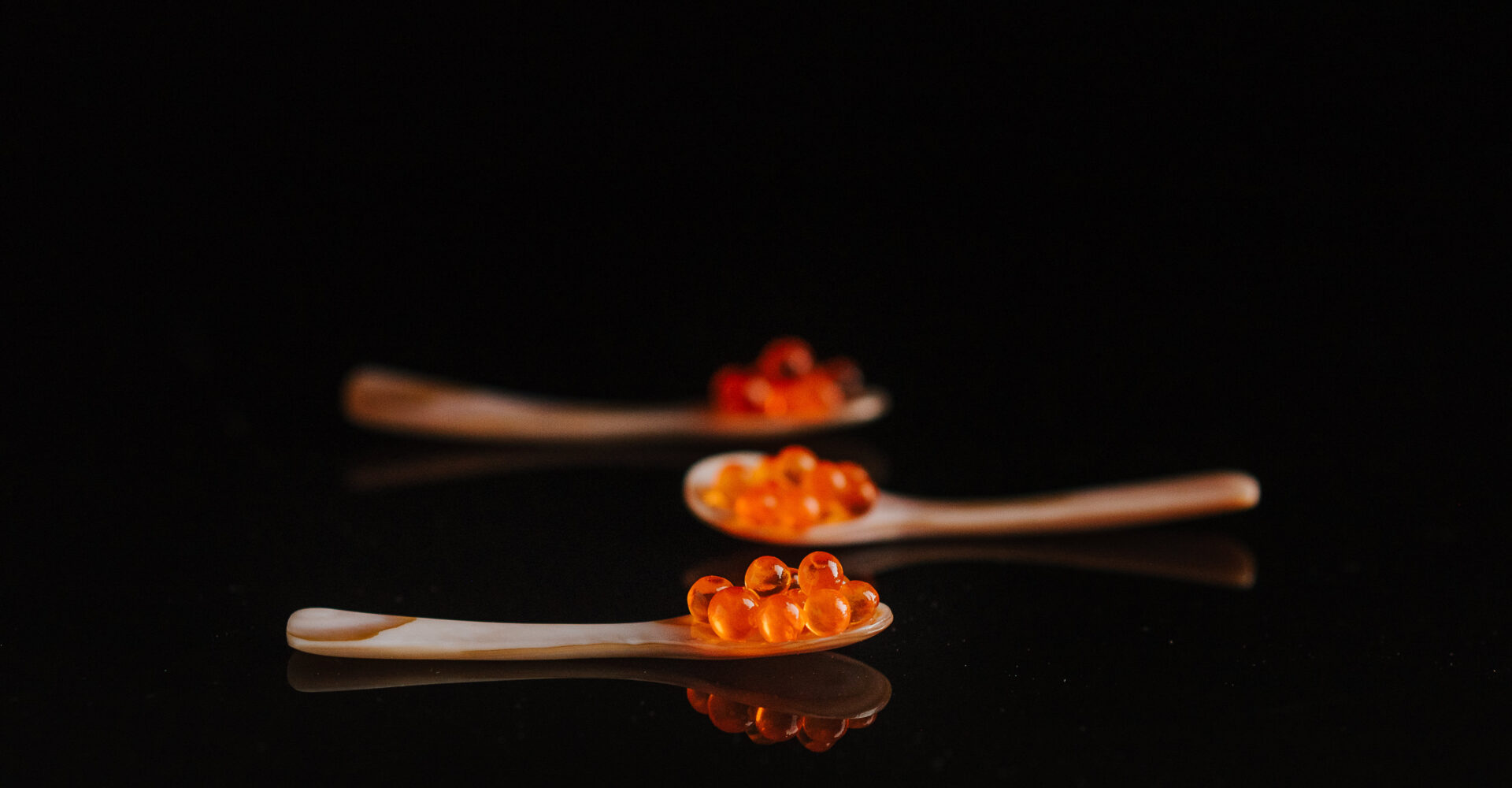 Mt Cook Alpine Salmon's First of Season Caviar 2022
First of Season Caviar- New Zealand's first premium salmon caviar experience produced by Mt Cook Alpine Salmon. Indulge in this limited time product!
First of Season Caviar
Indulge in New Zealand's first Fresh Salmon Caviar. Our First of Season Caviar represents the freshest, highest quality caviar produced at Mt Cook Alpine Salmon. Handcrafted in small batches, the First of Season caviar is extremely rare with only a few hundred tins produced each year and available for a couple of weeks at the start of the caviar season. This is truly nature at its finest.
Reared For Roe
Producing what we consider to be the finest salmon caviar in the world doesn't happen by chance. We are the only New Zealand company to grow salmon exclusively for caviar. These hand selected fish are fed a special diet for two years and harvested when we know the roe is at its peak. This ensures that our caviar is of unparalleled quality, unlike anything available in New Zealand.
Provenance
Our First of Season Caviar salmon are raised in the icy cold waters of the South Island's Southern Alps. The untouched glacial melts flow down into the fast-flowing canals which our salmon call home, resulting in a clean flavour profile of our caviar.
Crafting
At Mt Cook Alpine Salmon, we're in complete control over every stage of the caviar production process, from our hatcheries, our sustainable farms to our vacuumed sealed tins. Caviar production is a labour of love for our Caviar Masters who ensure the highest standards are met. We don't pasteurise or use any chemicals or preservatives other than salt.
Our Range
Malossol – We use the traditional Russian malossol method to gently brine the roe. It brings out the subtle, light, and clean taste of the caviar oils while imparting a slightly sweet flavour.
Ikura – This is our take on a Japanese classic method of curing using soy and sake. Nutty undertones of soy with rich umami notes, meld beautifully into the character of the caviar oils. Ikura has a hint of sweetness and sake in the finish.
How to enjoy
When it comes to experiencing our Salmon caviar, it's best to keep it simple. Its light and clean taste profile means it can get lost among other flavours.
Our First of Season Caviar should ideally be stored between 0 and 4 degrees C and should be served cooled on ice.
It is sensitive to oxidation, so open the tin just before consuming. Once opened it should be consumed entirely.
Our Caviar is perfect with a glass of white wine, champagne or Zenkuro's Nama Sake who have developed this special brew to coincide with our caviar season. The rare Nama Sake is young and fruity, with a limited shelf life. To be served and chilled like a wine. You can find out more about Zenkuro Sake here.
Where to enjoy
The 2022 season of caviar will be available at some of New Zealand's leading restaurants and only for a limited time. Follow us on Instagram where we will be showcasing restaurants & eateries serving it. A few of the restaurants are listed below. We will endeavor to update where we can.
Amok
Apero
Bar Magda
Bracu
Candela
Cazador Restaurant & Deli
Churly's Brewpub
FISH restaurant
Highwater Eatery
Jardin Grill
Katsura @ The Grand Millennium
Kingi
Kushi Hamilton
Lilus
Masu
Milenta Restaurant & Bar
Rothko @ Sculptureum
Sidart
Solitaire Lodge
Spiga
Tantalus Estate
Tara Iti
True South Dinning Room @ The Rees
Wharekauhau Country Estate
Rothko @ Sculptureum are hosting a special evening on the 28th of May to celebrate salmon & caviar. The 5 course menu incorporates elements of Rothko and Mt Cook Alpine Salmon. $129pp which includes a glass of Mumm champagne. You can purchase tickets by clicking here.
List last updated 5.45pm 19.05.2022